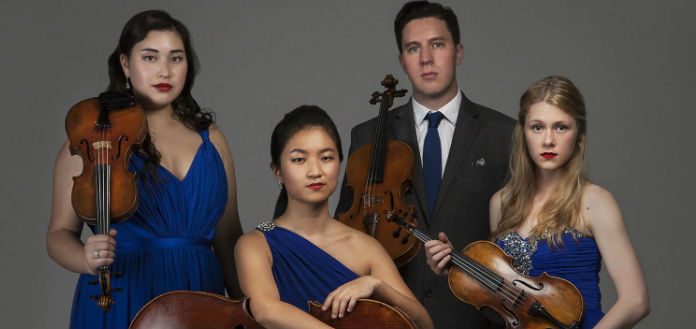 The New York-based Ulysses String Quartet has in recent seasons firmly established themselves as one of the most promising young chamber music ensembles to emerge internationally.
Comprising violinists Christina Bouey and Rhiannon Banerdt, violist Colin Brookes and cellist Grace Ho, the Ulysses Quartet are former 1st prize winners at the Schoenfeld International String Competition, Fischoff National Chamber Music Competition and Vietnam International Music Competition.
Upcoming performances include a Carnegie Hall debut – and recital performances in Halifax, Montreal, Quogue, New York, Washington DC and Geneva.
The Ulysses Quartet were recently appointed Lisa Arnhold Fellows of The Juilliard School.
[embedded content]
VC ARTIST ULYSSES QUARTET | BARTOK STRING QUARTET NO. 5 | 3RD MVT | BANFF INTERNATIONAL CHAMBER MUSIC COMPETITION | 2019
[embedded content]
VC ARTIST ULYSSES QUARTET | RAVEL STRING QUARTET | 3RD MVT | BANFF INTERNATIONAL CHAMBER MUSIC COMPETITION | 2019
[embedded content]
VC ARTIST ULYSSES QUARTET | BARTOK STRING QUARTET NO. 4 | 4TH MVT | 2018
[embedded content]
VC ARTIST ULYSSES QUARTET | HAYDN STRING QUARTET OP. 33 NO. 1 | 4TH MVT | BANFF INTERNATIONAL CHAMBER MUSIC COMPETITION | 2019
[embedded content]
VC ARTIST ULYSSES QUARTET | JANÁČEK STRING QUARTET NO.2 "INTIMATE LETTERS" | 4TH MVT | 2019
[embedded content]
VC ARTIST ULYSSES QUARTET | PAVEL HAAS STRING QUARTET NO. 2 "FROM THE MONKEY MOUNTAINS" | 1ST MVT | BANFF INTERNATIONAL CHAMBER MUSIC COMPETITION | 2019
[embedded content]
VC ARTIST ULYSSES QUARTET | SCHUBERT | QUARTETTSATZ | 2017
[embedded content]
VC ARTIST ULYSSES QUARTET | BEETHOVEN STRING QUARTET OP. 18 NO. 4 | 4TH MVT | WQXR | 2019
[embedded content]
VC ARTIST ULYSSES QUARTET | AKIRA NISHIMURA STRING QUARTET NO. 5 "SHESHA" | 2017
[embedded content]
VC ARTIST ULYSSES QUARTET | KOMITAS | ARMENIAN FOLK SONGS | WQXR | 2019
Christina Bouey
Violin: Stradivarius "Artot", 1728; Pressenda 1820
Bow: 2010 Isaac Salchow
Strings: Thomastik-Infeld Pi
Accessories: Performa Padauk Wood Shoulder Rest
Schools: ​BM '09, Boston Conservatory | MM '11, PS '12, OP '13, Manhattan School of Music
Teachers: Irina Muresanu | Nicholas Mann | Laurie Smukler | Glenn Dicterow | Lisa Kim | Philippe Djokic
Website: https://www.christinabouey.com/
Facebook: https://www.facebook.com/christinaboueyviolin/
Instagram: @tinabouey
Rhiannon Banerdt
Violin: Carlo Bergonzi 1737, on loan from The Juilliard School
Bow: Johann Wilhelm Knopf
Accessories: Performa Shoulder Rest | Jade Rosin
Strings: Lenzner Goldbrokat E | Thomastik Pi ADG
Schools: BM '10, MM '12 New England Conservatory | DMA Candidate CUNY Graduate Center
Teachers: Lucy Chapman | Paul Biss | Mark Steinberg
Website: rhiannonbanerdt.com
Facebook: https://www.facebook.com/rhiannon.banerdt
YouTube: Rhiannonviolin
Colin Brookes
Viola: 'Joachim & Yaeko Bolck' School of Postiglione, ca. 1880 (on loan from Maestro Foundation); Grancino 1799 (on loan from The Juilliard School)
Bow: Ouchard (on loan from The Juilliard School)
Strings: A Jargar Medium |DGC Thomastik-Infeld Pi
Accessories: Kun Bravo
Schools: Juilliard BM '11 | Yale MM '13, AD '14
Comments
comments